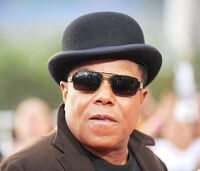 Toriano Adaryll "Tito" Jackson was born on October 15, 1953 in Gary, Indiana to Joe and Katherine Jackson.
He and his older brother, Jackie Jackson, are the only brothers to remain in The Jacksons for their entire history, from 1964 to date. He has never pursued a solo career. In 1964, he, Jackie, Jermaine, Marlon, and Michael sang together in " The Jackson 5".
On June 17,1972 at age eighteen , Tito married Delores "Dee Dee" Martes . They went to Fairfax High School together. They have three children: Tariano Adaryll Jackson II , born on August 4,1973, Taryll Adryall Jackson born on August 8,1975, and Tito Joe Jackson , born on July 16,1978. He also has six grandchildren, two from Taryll and four from T.J.
Tito and Dee Dee divorced in 1993. On August 27,1994, Dee Dee was found dead in the swimming pool of her boyfriend Donald Bohana's house. Later he was sentenced to fifteen years in prison for murder. On June 25, 2009, Tito lost his younger brother Michael. He died at age fifty from propofol intoxication. Also during that year, he, Jackie, Jermaine, and Marlon were in a T.V. show called " The Jacksons: A Family Dynasty talking about the 40th anniversary reunion for The Jackson 5.