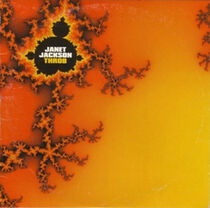 Throb is a single released from Janet Jackson's fifth album "Janet.". The song was written & produced by Janet, Jimmy Jam & Terry Lewis.
The song was released commercially in the Netherlands as the album's sixth single on June 18, 1994, while in the United States, it was a radio-only release.
Chart Performance
Edit
"Throb" was released as a commercial single in the Netherlands, but it failed to make the charts.
In the United States, the song was not released commercially, however, it was sent to mainstream radios and charted on the Billboard Hot 100 Airplay chart, peaking at #66.
The song's B-side, "And On and On", went on to chart as well at number 28. It also peaked at #12 on the Hot R&B/Hip-Hop Airplay chart, but due to Billboard's regulations, both songs were ineligible to chart on the Billboard Hot 100 due to their lack of a physical release in the US.
However, the song enjoyed success on the Hot Dance Club Songs chart, eventually reaching #2. Additionally, it topped Hot Dance Singles Sales as a B-side to the song "Any Time, Any Place".
Critical Reception
Edit
"Throb" received positive reviews from music critics.
Billboard (while reviewing the album on its twentieth anniversary) said, "If the production sounds a little dated now, the overtly sexual vibes on this track are pretty timeless – and still risqué for the early 90s."
Robert Christgau called the song "orgiastic."
MuuMuse gave a positive review for "Throb", defining it as "a '90's purist's house track, featuring classic dance rhythms and beat breaks".
The reviewer continued saying the song is "a much grittier experience than the slinky seduction" of Madonna's song "Erotica" (which was released the year before) and finished saying, "Surprisingly however, the track has aged brilliantly, and listening to it now is still an overly enjoyable experience".
Sputnikmusic considered that "Throb" has a "sexy workout feel".
Philadelphia Daily News's Chuck Arnold called the song a "deep house jam with a pumpin' bass line".
A reviewer for Soulbounce commented that for the "pulsing" song, Janet became a house music diva.
Complex noted that "Throb" is "the hip-house tantric jam that's Janet at her most explicit: moans, groans, 'damn, baby', you get the picture, yes".
Sal Cinquemani from Slant Magazine commented: "Even the nearly structure-less 'Throb', [...] feels like a (perhaps unintentional) parody of Madonna's 'Erotica', right down to the hard, house-orgy beats."