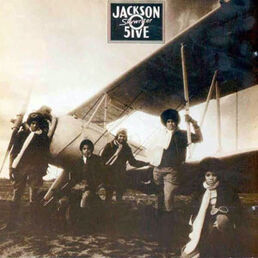 Skywriter was the 6th album by The Jackson 5. The album was released on March 29, 1973 on Motown Records. The album peaked at #44 on the Billboard 200 and #15 on Billboard's R&B Albums chart.
It sold 2.8 million copies worldwide & would be the last album to have bubblegum pop music and the group's sound switched to a more soulful disco sound. The album was recorded from April of 1972 through January of 1973.
It was one of the least successful albums that the Jackson brothers had ever created, mainly because of only one top 20 single and lack of promotion because the boys were on a worldwide tour during that time.
Album Production\Background
Edit
At the time, Michael's vocals were now showing the signs of his maturing tenor voice while Jermaine's voice had become much deeper in tone. Also during that time, Michael was frustrated with the direction that he and his brothers were going in and complained to the staff producers & writers of Motown Records about the kind of music they were doing.
The group were openly discouraged by the style of music they were receiving from the writers of Motown and by that point, all five brothers were writing their own material, but Motown prevented them from recording their own music. The brothers' frustration was showcased openly by the album cover where they looked solemnly at the camera around an early 1900s-era airplane.
Notably, the album also contained the song, "Touch" (which was originally sung by The Supremes) featured Michael & Jermaine singing about satisfying a woman in bed and became one of the most controversial singles that Michael sung on until his solo career took off in the 80s.
Tracklisting
Edit
Skywriter (3:08)-[written by Mel Larson & Jerry Marcellino]
Hallelujah Day (2:46)-[written by Freddie Perren & Christine Yarian]
The Boogie Man (2:56)-[written by Deke Richards]
Touch (3:00)-[written by Pam Sawyer & Frank Wilson]
Corner of the Sky (3:33)-[written by Stephen Schwartz]
I Can't Quit Your Love (3:12)-[written by Leonard Caston & Kathy Wakefield]
Uppermost (2:26)-[written by Davis]
World of Sunshine (2:45)-[written by Mel Larson & Jerry Marcellino]
Ooh, I'd Love to Be With You (2:49)-[written by Fonce & Larry Mizell]
You Made Me What I Am (2:50)-[written by The Corporation]