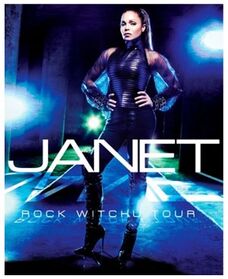 The Rock Witchu Tour was Janet Jackson's fifth concert tour. The tour lasted from September 10 to November 1, 2008. It was Janet's first tour in nearly seven years.
It was in support of her album "Discipline." The tour took place in North America (where Janet performed 16 shows). A Japanese leg was planned for February of 2009, but it was canceled by the concert promoters due to illness and the events of the 2009 economic crisis.
Tour Background
Edit
After releasing her eighth studio album "Damita Jo," Janet dealt with criticism with the massively controversial Super Bowl incident, resulting a blacklist of her subsequent singles and music videos from several conglomerates, including Viacom and CBS and various subsidiaries which largely affected her airplay on many radio formats and music channels worldwide.
Because of that, Janet didn't go on tour to support "Damita Jo" recorded her ninth studio album during 2005-2006 instead.
The album "20 Y.O." was released in September of 2006 and it was announced that Janet was prepping a worldwide tour to promote the album. However, the unnamed tours were canceled abruptly when she began recording new material.
Janet stated:
"I was supposed to go on tour with the last album [...] We were actually in full-blown tour rehearsals at that point ... learning numbers, getting everything together, set designs [...] I had to kind of shut everything down and go into the studio."
In early 2008 on The "Ellen DeGeneres Show," Janet announced that she would go on tour.
The audience was given free tickets to her show at the Staples Center. While planning the tour, she started a phone line where fans could call in and request songs to be performed. Janet was set to perform all of her memorable hits, including those from her pre-"Control" days.
Tour Development
Edit
According to Janet:
"It will definitely be a big production but it will definitely also be something that I've never done before, that people have never seen from me before."
The title of the tour "Rock Witchu Tour" was named for a song of the same name on her album "Discipline." The tour was set to be worldwide with Janet stating:
"It's been a while so I really want to make my rounds. I haven't been to Australia in a very long time; I can't wait to go there. There are a lot of places where I really want to stop off at, and that's the idea, that's the goal with this tour."
In April of 2008, Janet claimed that:
"I'm still promoting the new album (Discipline) right now, but we'll be getting into rehearsals in about a month and then start touring. My true goal is to try at least do every single that I've ever had. So, I've got to figure out a way to fit this in two hours, and yet give them enough of each song so that they don't feel hungry for more of that song in particular."
The two and a half hour show kicked off in Vancouver on September 10, 2008 to rave reviews.
Tour Synopsis
Edit
For two hours, the show sees Janet performing nearly 40 hits, complete with theatrics, costume changes and a few surprises.
According to Janet, the tour features a set list that was directly influenced by her fans.
The setup of the stage includes a giant square-shaped catwalk surrounding the first several front rows of seats, reaching out to the center of the arena where fans could see Janet from any level of seating. Rows of seating inside the catwalk were exclusively designed for those with purchased fan club memberships.
There are three video screens that take on the stage, including the biggest one being in the center where video clips are shown throughout songs to take place for effects and in-between costume change breaks. Other special staging includes movable staircases, steel cages, pyrotechnics and other special pieces.
The show begins with an echo of words being said in the distance of the arena, such as "Janet", "Rock Witchu", "Dance", and "Discipline."
As the words speed up, the show lights come on and several dancers dressed as astronauts appear on the stage, with two standing beside two big glittery "J"'s (representing Janet's name.) The "J"'s move back and forth on the center of the stage with stars appearing on the center video screen (a representation of Space).
Pretty soon, fog appears in front of the audience and a bang of pyrotechnics blasts, thus beginning the opening of the show.
Janet appears on the upper center section of the stage in a gold hyperspace dance suit singing "The Pleasure Principle", as well as "Control" when 13 dancers join her, emerging from underground in various positions around the massive stage, and "What Have You Done For Me Lately" on the "Control Medley" and later moving on to "Feedback." She then performed "You Want This," "Alright" and "Miss You Much."
Afterward, Janet did a brief costume change and returned to the stage in a sultry red dress to perform a string of ballads including "Come Back to Me", "Again" and "Let's Wait Awhile."
After another wardrobe change, she came back out to perform a mixture of old and new songs including "So Excited", "Together Again", "Nasty," "Escapade", "That's the Way Love Goes," "Luv" and "Rhythm Nation."
Janet's duets with Nelly, Q-Tip and Dave Navarro had the musicians appearing on a pre-recorded video and performing their verses while Janet sang on stage.
Other notable performances of the night include the Pre-"Control" medley in which Janet performs songs she has never done before live from her first two albums "Janet Jackson" and "Dream Street" as well as an S&M display on-stage with a lucky audience member to perform the title track off her tour supporting album "Discipline."
During the performance, Janet had her dancers pull up a male audience member and strap him into a harness. He was then suspended midair as she teased him with a highly suggestive set of moves and the breathy soft-core porn of the track.
For the finale of the show, Janet and her dancers perform "Luv" and he top-five hit "Runaway."
Control Medley ("The Pleasure Principle," "Control" and "What Have You Done for Me Lately")
"Feedback"
"You Want This"
"Alright"
"Miss You Much"
"Never Letchu Go"
"Come Back to Me"
"Let's Wait Awhile"
"Again"
"So Excited"
"So Much Betta"
"Nasty"
"All Nite (Don't Stop)"
"Rock with U"
"Together Again"
Pre-Control Medley ("Young Love," "Say You Do" and "Don't Stand Another Chance")
"Doesn't Really Matter"
"Escapade"
"Love Will Never Do (Without You)"
"When I Think of You"
"All for You"
"Got 'til It's Gone"
"Call on Me"
"That's the Way Love Goes"
"I Get Lonely"
"Funny How Time Flies (When You're Having Fun)"
"Any Time, Any Place"
"Discipline"
"Black Cat"
"If"
"Rhythm Nation"
Encore
"Luv" (contains elements of Lil Wayne's "Lollipop")
"Runaway"
Community content is available under
CC-BY-SA
unless otherwise noted.