Jurassic World: Dominion Dominates Fandom Wikis - The Loop
Play Sound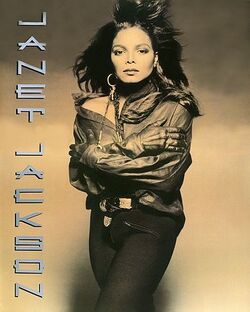 The "Rhythm Nation 1814 World Tour" is Janet's debut concert tour that was launched in support of her fourth album "Janet Jackson's Rhythm Nation 1814."
It also contained material from Janet's 1986 album "Control." In the fall of 1989, Janet's record label, A&M Records announced plans for the world tour following the release of the Rhythm Nation album.
The tour was managed by Robert Davies & Rusty Hooker, developed by musical director Chuckii Booker, choreographer Anthony Thomas, stage designer Roy Bennett, stage manager Chris Tervit, production manager Benny Collins and Janet.
Tour Background
[
]
In the fall of 1989, A&M Records announced plans for Janet's first world tour. Janet was assisted by a team of 11 musicians, backup singers and 6 dancers. Anthony Thomas was selected as the chief choreographer for the tour.
Musician/record producer Chuckii Booker was hired as the musical director for the tour and his band became the tour's opening act. Janet's tour was managed by Roger Davies, stage designer Mark Fisher and Benny Collins. The total production cost of the tour was an estimated $2 million.
Tour Promotion
[
]
On June 9, 1990, MTV aired a 4-hour television special entitled "Janet Jackson Saturday" which featured interviews & music videos by Janet along with live coverage of her tour.
Tour Reception
[
]
The majority of all concert tour dates became instant sell-outs. The dress rehearsal for the tour at the Pensacola Civic Center in Pensacola, Florida issued 7,600 tickets publicly as a benefit to a local charity which sold out in less than an hour.
The first international concert in Tokyo, Japan sold out the Tokyo Dome within 7 minutes becoming the fastest sellout in the history of the Tokyo Dome. In Salt Lake City, Utah, the concert became the fastest sellout in Salt Palace history as tickets were gone in 1 hour, 20 minutes after the box office opened.
The Rhythm Nation 1814 World Tour grossed $28.1 million in the United States alone, ranking at #5 among the best-selling tours of 1990 within the U.S., making Janet the only female artist to place within the top 10.
The tour had an attendance of over 2 million patrons and remains the most successful debut tour by any recording artist.
Tour Dates
[
]
Date
City
Country
Venue
           North America
February 27, 1990
Pensacola, Florida
United States
Pensacola Civic Center (Dress rehearsal)
March 1, 1990
Miami, Florida
Miami Arena
March 3, 1990
Chapel Hill, North Carolina
Dean Smith Center
March 4, 1990
Charlotte, North Carolina
Charlotte Coliseum
March 6, 1990
Columbia, South Carolina
Carolina Coliseum
March 7, 1990
Knoxville, Tennessee
Thompson–Boling Arena
March 9, 1990
Louisville, Kentucky
Freedom Hall
March 10, 1990
Cincinnati, Ohio
Riverfront Coliseum
March 12, 1990
Richfield, Ohio
Richfield Coliseum
March 13, 1990
Pittsburgh, Pennsylvania
Civic Arena
March 15, 1990
New York City
Madison Square Garden
March 16, 1990
March 19, 1990
Montreal
Canada
Montreal Forum
March 20, 1990
Toronto
SkyDome
March 22, 1990
Landover, Maryland
United States
Capital Centre
March 23, 1990
Hartford, Connecticut
Hartford Civic Center
March 25, 1990
Philadelphia, Pennsylvania
The Spectrum
March 26, 1990
Worcester, Massachusetts
The Centrum
March 27, 1990
March 29, 1990
Landover, Maryland
Capital Centre
March 31, 1990
Hampton, Virginia
Hampton Coliseum
April 2, 1990
Detroit, Michigan
Joe Louis Arena
April 3, 1990
April 5, 1990
Minneapolis, Minnesota
Met Center
April 6, 1990
April 8, 1990
Rosemont, Illinois
Rosemont Horizon
April 9, 1990
April 11, 1990
Kansas City, Missouri
Kemper Arena
April 13, 1990
Fort Worth, Texas
Tarrant County Convention Center
April 15, 1990
Houston, Texas
The Summit
April 16, 1990
April 18, 1990
Phoenix, Arizona
ASU Activity Center
April 20, 1990
Inglewood, California
Great Western Forum
April 21, 1990
April 23, 1990
San Diego, California
Sports Arena
April 25, 1990
Inglewood, California
Great Western Forum
April 26, 1990
April 28, 1990
Oakland, California
Oakland Coliseum Arena
April 29, 1990
May 1, 1990
May 2, 1990
May 4, 1990
Sacramento, California
ARCO Arena
May 5, 1990
       Asia
May 17, 1990
Tokyo
Japan
Tokyo Dome
May 18, 1990
May 20, 1990
Osaka
Osaka-jō Hall
May 21, 1990
May 23, 1990
Yokohama
Yokohama Arena
              North America
June 6, 1990
Tacoma, Washington
United States
Tacoma Dome
June 7, 1990
June 9, 1990
Vancouver
Canada
BC Place Stadium
June 11, 1990
Edmonton
Northlands Coliseum
June 12, 1990
Calgary
Olympic Saddledome
June 15, 1990
Denver, Colorado
United States
McNichols Sports Arena
June 16, 1990
June 20, 1990
Mountain View, California
Shoreline Amphitheatre
June 21, 1990
June 23, 1990
Costa Mesa, California
Pacific Amphitheatre
June 24, 1990
June 26, 1990
Inglewood, California
Great Western Forum
June 27, 1990
June 29, 1990
July 2, 1990
Dallas, Texas
Reunion Arena
July 3, 1990
Oklahoma City, Oklahoma
Myriad Convention Center
July 5, 1990
Austin, Texas
Frank Erwin Center
July 6, 1990
July 8, 1990
New Orleans, Louisiana
Louisiana Superdome
July 10, 1990
Memphis, Tennessee
Mid-South Coliseum
July 12, 1990
Miami, Florida
Miami Arena
July 13, 1990
Orlando, Florida
Orlando Arena
July 14, 1990
St. Petersburg, Florida
Florida Suncoast Dome
July 16, 1990
Atlanta, Georgia
The Omni
July 17, 1990
July 19, 1990
July 20, 1990
July 22, 1990
Birmingham, Alabama
Birmingham–Jefferson Convention Complex
July 24, 1990
Indianapolis, Indiana
Market Square Arena
July 25, 1990
Cincinnati, Ohio
Riverbend Music Center
July 27, 1990
Milwaukee, Wisconsin
Bradley Center
July 29, 1990
Tinley Park, Illinois
World Music Theater
July 30, 1990
August 1, 1990
August 2, 1990
Lexington, Kentucky
Rupp Arena
August 4, 1990
Ames, Iowa
Hilton Coliseum
August 5, 1990
St. Louis, Missouri
St. Louis Arena
August 7, 1990
Auburn Hills, Michigan
The Palace of Auburn Hills
August 8, 1990
August 10, 1990
Landover, Maryland
Capital Centre
August 11, 1990
August 13, 1990
August 14, 1990
Greensboro, North Carolina
Greensboro Coliseum
August 16, 1990
Philadelphia, Pennsylvania
The Spectrum
August 17, 1990
August 19, 1990
August 21, 1990
Ottawa
Canada
Frank Clair Stadium
August 22, 1990
Auburn Hills, Michigan
United States
The Palace of Auburn Hills
August 23, 1990
August 25, 1990
Albany, New York
Knickerbocker Arena
August 27, 1990
Providence, Rhode Island
Providence Civic Center
August 28, 1990
Uniondale, New York
Nassau Coliseum
August 30, 1990
East Rutherford, New Jersey
Meadowlands Arena
September 3, 1990
Burgettstown, Pennsylvania
Starlake Amphitheater
September 4, 1990
Richfield, Ohio
Richfield Coliseum
          Europe
October 4, 1990
Rotterdam
Netherlands
Ahoy Rotterdam
October 8, 1990
Berlin
Germany
Velodrom
October 11, 1990
Copenhagen
Denmark
Valby Hallen
October 14, 1990
Paris
France
Palais Omnisports de Paris-Bercy
October 16, 1990
Munich
Germany
Olympiahalle
October 24, 1990
Frankfurt
Eissporthalle
October 28, 1990
London
United Kingdom
Wembley Arena
              Asia
November 3, 1990
Osaka
Japan
Osaka-jo Hall
November 4, 1990
November 6, 1990
Tokyo
Tokyo Dome
November 7, 1990
November 14, 1990
Nagoya
Nagoya Rainbow Hall
November 15, 1990
November 16, 1990
Yokohama
Yokohama Arena
Cancellations

[

]
March 25th at The Spectrum in Philadelphia: Postponed due to schedule conflict with WWF.
August 2nd at the Rupp Arena in Lexington, Kentucky: Canceled due to Janet experiencing flu-like symptoms and a bad cold.
August 4th at the Hilton Coliseum in Ames, Iowa: Canceled due to Janet ill with an inner-ear infection.
August 5th at the St. Louis Arena St. Louis, Missouri: Canceled due Janet ill with a viral infection. Janet passed out backstage after performing three songs.
August 7th and 8th at The Palace of Auburn Hills in Detroit, Michigan: Postponed due Janet ill with a viral infection.
September 3rd at the Starlake Amphitheater in Burgettstown, Pennsylvania: Canceled due to Janet becoming ill.
October 11th at the Valby Hallen in Copenhagen, Denmark: Cancelled due to Janet becoming ill minutes before the concert began.
Tour Set List
[
]
"Control"
"Nasty"
"T.V." (interlude)
"Race" (interlude)
"The Knowledge"
"Funny How Time Flies (When You're Having Fun)" (instrumental interlude)
"Alright"
"Escapade"
"Pledge" (interlude)
Tour Credits
[
]
Management: Roger Davies Management, Inc.
Tour Manager: Rusty Hooker
Assistant Tour Manager: Nelson Hayes
Production Manager: Benny Collins
Assistant Production Manager: Lisa Hoth
Stage Manager: Chris Tervit
Musical Director: Chuckii Booker
Lighting/Design: Roy Bennett
Automated Lighting: Gary Westcott
Tour Photography: Eddie Wolfl
Dancers

[

]
Choreography: Janet Jackson, Anthony Thomas, Terry Bixler and LaVelle Smith
Staging: Janet Jackson, Tina Landon, LaVelle Smith, Terry Bixler and Anthony Thomas
Tour Facts
[
]
The tour grossed over $28 million in the US only from dates reported, and nearly $65 million worldwide.
The estimated worldwide attendance was at 2 million, with more than 1.85 million in North America alone coming from 91 shows.
Rehearsals for the Rhythm Nation Tour were held in Los Angeles. Janet then rehearsed in Pensacola, Florida for two weeks before the tour began. She surprised the people of Pensacola with a concert that was announced only one day ahead of time. The $10 tickets, limited to a four per person, didn't go on sale until the morning of the concert. Within three hours, all 7,600 tickets were sold and another 1,000 tickets were given to local charities.
Janet's first show for the summer tour starting on Saturday June 7th at the Tacoma Dome in Tacoma, Washington sold out so fast, she quickly added a second show to be performed the day before on Friday June 6th. This upset many of the fans who waited in line for hours for the Saturday show only to see her second show. Adding insult to injury, at the Saturday show, Janet had the world premiere of the music video for "Black Cat" that had been filmed the night before.
Janet was scheduled to play Philadelphia in March, but the people who manage the Spectrum Arena doubled-booked Jackson's show and a WWF wrestling match on the same night. The sold-out show was later rescheduled in August.
Janet's four Los Angeles shows sold out in 48 minutes.
Janet had to reschedule her appearance at Byrne Arena in East Rutherford, New Jersey from September 8th to August 30th because of her performance at the 1990 MTV Video Music Awards.
Janet had to reverse the decision to use a live panther on the show after several incidents, including the panther urinating on stage. Citing concerns from fans and her own love of animals, eventually, she didn't use the panther in the summer leg of the tour.
Janet spent her 24th birthday at Tokyo Disneyland.
The May 18th show in Tokyo, Japan was shot in HD and aired on Japanese television in full, spliced with 2 commercial Janet had recorded for JAL Airlines.