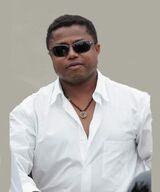 Steven Randall "Randy" Jackson was born on October 29, 1961 in Gary, Indiana to Joe and Katherine Jackson.
In 1975 he joined The Jacksons, replacing his older brother Jermaine. In 1977, he signed to CBS Records as a solo artist, but his album was canceled when the group moved to Epic Records.
After leaving The Jacksons in 1989, he quickly put together a band and signed to A&M Records, and they released their debut, "Randy & The Gypsys". Soon after, he married Eliza Shaffe in August 1989.
On June 17,1990, Eliza gave birth to daughter Stevanna Shaffe-Jackson. His band then broke up, and he has been inactive since. His mistress, Alejandra Oaziana then had his daughter, Genevieve, who was born on December 3,1989. He and Shaffe divorced in 1991, and he would later have two more children with Oaziana, Steven Randall " Randy ", born on October 2,1991 and Donte Jackson , born on June 13, 1992.
Discography
Edit