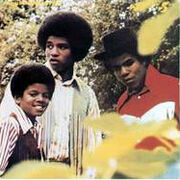 Maybe Tomorrow was the 4th album released by The Jackson 5. The album was released on April 12, 1971 on Motown Records. The album was recorded from February of 1970 to February of 1971.
The album peaked at #11 on the Billboard 200 and topped Billboard's R&B Albums chart for 6 weeks. Even though the album wasn't as financially successful as the group's first three albums, it sold over 3.5 million copies worldwide and contains some of the most often sampled and cover material in the group's catalogue.
The songs from this album has been sampled & covered by artists such as Puff Daddy, Ghostface Killah, 702, Chris Brown, Isaac Hayes, Gloria Gaynor, UB40, and Wiz Khalifa.
Tracklisting
Edit
Maybe Tomorrow (4:41)-[written by the Corporation]
She's Good (2:59)-[written by the Corporation]
Never Can Say Goodbye (2:57)-[written by Clifton Davis]
The Wall (3:03)-[written by Mel Larson, Jerry Marcellino, and Pam Sawyer]
Petals (2:34)-[written by the Corporation]
Sixteen Candles (2:45)-[written by Luther Dixon & Allyson R. Khentt]
(We've Got) Blue Skies (3:21)-[written by Thomas Bee, Chris Clark, Fuller Gordy, Patrick Stephenson, & Deloris Wilkinson]
My Little Baby (2:58)-[written by the Corporation]
It's Great to Be Here (2:59)-[written by the Corporation]
Honey Chile (2:45)-[written by Richard Morris & Sylvia Moy]
I Will Find a Way (2:57)-[written by the Corporation]