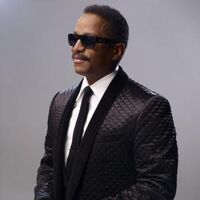 Marlon David Jackson was born on March 12, 1957 in Gary, Indiana to Joe and Katherine Jackson. He had a twin, Brandon, who died hours after birth. In 1964, he and his younger brother Michael joined their three older brothers Jackie, Tito, and Jermaine in their band . They became "The Jackson Five". Later when they went to Motown, Jermaine stayed there and their younger brother Randy replaced him and they became " The Jacksons."
In 1968, he began corresponding with Carol Ann Parker, whom he married on August 16, 1975.
They have three children: Valencia (December 18,1976), Brittany (April 15,1978) and Marlon Jr. ( September 23,1981).
In 1986, Marlon Jackson became the last sibling to start a solo career when he signed to Capitol Records. His debut album, "Baby Tonight" was released the following year, and was not very successful causing him to be dropped in 1988. He has been inactive since.
He has two grandchildren from Valencia: Noah Laniak, born on August 18, 2006, and Sophia Laniak, born on November 11, 2007. He has three grandchildren from Brittany: Phoenix, born on July 27,2010/ Savanna, born on September 2,2011, and Summer Sanchez, born on August 27,2014.
Discography
Edit