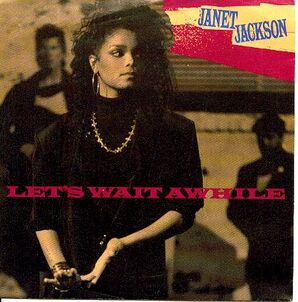 "Let's Wait Awhile" is the fifth single from Janet's third album "Control." The single was released on January 6, 1987 in the United States and on March 9, 1987 in the United Kingdom.
The song was written by Janet, Jimmy Jam & Terry Lewis and Melanie Andrews & produced by Janet, Jimmy Jam & Terry Lewis. It was the first song Janet Jackson produced.
The song can be interpreted as an anthem to sexual abstinence as it was successful during the height of the AIDS pandemic.
In Brazil, "Let's Wait Awhile" became a successful international theme of the soundtrack of the Globo TV telenovela "Brega Chique" in 1987.
Music Video
Edit
The video was directed by Dominic Sena and takes place in New York as Janet & her boyfriend (portrayed by actor/martial artist Taimak Guarriello) go out on a date. Janet's boyfriend wants to end the evening by taking their relationship a step further, but she wants to wait until they are both ready.
Chart (1987)
Peak
position
Australian Kent Music Report
21
Belgian Singles Chart (Flanders)
15
Canadian Singles Chart
11
Dutch Top 40
16
German Singles Chart
34
Irish Singles Chart
4
New Zealand Singles Chart
26
Swiss Singles Chart
27
UK Singles Chart
3
U.S. Billboard Hot 100
2
U.S. Billboard Hot Black Singles
1
U.S. Billboard Adult Contemporary
2
End-of-year chartsEdit
| End-of-year chart (1987) | Position |
| --- | --- |
| U.S. Billboard Hot 100 | 48 |
Certifications
Edit
The song was certified Silver by the BPI.