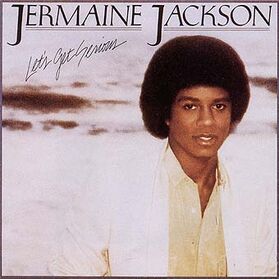 Let's Get Serious is the sixth album by Jermaine Jackson. The album was released on March 17, 1980 on Motown Records. The album became Jermaine's most successful album to date.
The track "You're Supposed to Keep Your Love for Me" was originally recorded in 1975, possibly for the aborted "Do Unto Others" album and featured Stevie Wonder, Michael Jackson, and Jackie Jackson on background vocals.
When Jermaine's brothers left for Epic Records, the original version was shelved, but four years later, Stevie dug it out and remixed/overdubbed the track for "Let's Get Serious" and removed Michael and Jackie's vocals.
Tracklisting
Edit
Let's Get Serious (8:05)-[written by Lee Garrett & Stevie Wonder]
Where Are You Now (3:49)-[written by Renee Hardaway & Stevie Wonder]
You Got to Hurry Girl (4:15)-[written by Jermaine Jackson, Maureen Bailey, & Paul M. Jackson Jr.]
We Can Put it Back Together (5:08)-[written by Hazel G. Jackson, Jermaine Jackson, & Maureen Bailey]
Burnin' Hot (7:50)-[written by Jermaine Jackson, Jim Foelber, & Phyllis Molinary]
You're Supposed to Keep Your Love for Me (5:34)-[written by Stevie Wonder]
Feelin' Free (7:59)-[written by Hazel G. Jackson, Jermaine Jackson, & Maureen Bailey]
Personnel
Edit
Drums: Stevie Wonder, Dennis Davis, Ed Greene, Ollie E. Brown
Percussion: Emil Radocchia, Gary Coleman, Gene Estes, Paul Jackson, Jermaine Jackson, Earl DeRouen
Bass: Nathan Watts, Eddie Watkins, Scott Edwards, Jermaine Jackson
Synth Bass: Gary Scott
Keyboards: Stevie Wonder, Greg Phillinganes, Joe Sample, Kevin Bassinson, Jermaine Jackson
Clavinet: Isaiah Sanders
Guitars: Stevie Wonder, Ben Bridges, Rick Zunigar, Paul Jackson, Tim May
Trumpet: Larry Gittens
Handclaps: Nathan Watts, Earl DeRouen, Abdoulaye Soumare, Keith Harris, Reggie Wiggins, Dick Rudolph
Arrangements: Stevie Wonder, Jermaine Jackson & Don Peake
Produced by: Stevie Wonder (on tracks 1, 2, and 6) and Jermaine Jackson (on the rest of the tracks)
Executive Producers: Berry Gordy Jr. & Hazel Jackson
Engineers: Abdoulaye Soumare, Bob Harlan, Bob Robitaille, Cal Harris, Frank Kramer, Gary Olazabal, Ginny Pallante, Jane Clark, John Mills, Russ Terrana, & Steve Miller
Album Chart Performance
Edit
Year
Album
Chart positions
US Billboard 200
US
R&B Albums
1980
Let's Get Serious
6
1