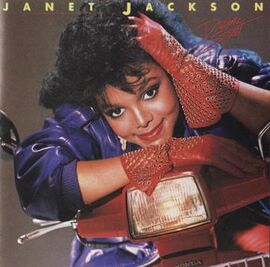 Dream Street is the second album by Janet Jackson. The album was released on October 23, 1984 on A&M Records.
The album contained more pop music than "bubblegum soul" music on her debut album and it wasn't a success that Joseph Jackson thought that it would be.
The album is Janet's rarest album and much sought after by fans even though an Japanese import is available. This would be the last of Janet's pre-stardom albums. She would break out of her "squeaky clean" image with her "Control" album in 1986.
Tracklisting
Edit
Don't Stand Another Chance (4:14)-[written by Marlon Jackson & John Barnes; produced by Marlon Jackson]
Two to the Power of Love (feat. Cliff Richard) (3:06)-[written by Peter Beckett & Steven A. Kipner; produced by Giorgio Moroder & Pete Bellotte]
Pretty Boy (6:32)-[written and produced by Jesse Johnson]
Dream Street (3:52)-[written by Giorgio Moroder & Pete Bellotte; produced by Bobby Watson, Rene Moore, & Angela Winbush]
Communication (3:12)-[written by Paul Bliss; produced by Giorgio Moroder & Pete Belotte]
Fast Girls (3:18)-[written and produced by Jesse Johnson]
Hold Back the Tears (3:14)-[written by Chris Eaton; produced by Giorgio Moroder & Belotte]
All My Love to You (5:44)-[written by Marlon Jackson & Anthony Patler; produced by Marlon Jackson]
If It Takes All Night (4:09)-[written by David A. Bryant and Jay Gruska; produced by Giorgio Moroder & Pete Belotte]
Album Personnel
Edit
Beth Andersen - Background Vocals
John Barnes - Keyboards, Programming, Moog Synthesizer, Rhythm, Associate Producer, Drum Programming, Rhythm Arrangements, Moog Bass
Arthur Barrow - Bass, Arranger, Guitar (Bass), Keyboards
Bill Bartell - Engineer, Mixing
Steve Bates - Engineer
Chuck Beeson - Art Direction
Pete Bellotte - Producer
Bill Bottrell - Engineer, Mixing
William Bottrell - Engineer
Sam Emerson - Photography, Inlay Photography
Dino Espinosa - Background Vocals
Jackie Espinosa - Background Vocals
Michael Espinosa - Background Vocals
Tito Espinosa - Background Vocals
Gary Falcone - Background Vocals
Mitchell Froom - Arranger, Keyboards
Brian Gardner - Mastering
Steve Hodge - Engineer
Jackie Jackson - Background Vocals
Janet Jackson - Vocals, Duet
Marlon Jackson - Drums, Programming, Background Vocals, Rhythm, Producer, Drum Programming, Rhythm Arrangements
Michael Jackson - Background Vocals
Tito Jackson - Background Vocals
Jesse Johnson - Producer
Marva King - Background Vocals
Harry Langdon - Cover Photo
Peter Martinsen - Engineer, Remixing, Mixing
Peggy McCreary - Mixing
Jonathan Moffett - Drums
Giorgio Moroder - Producer
Melanie Nissen - Design
Cecille Parker - Stylist
Anthony Patler - Keyboards, Rhythm, Rhythm Arrangements
Greg Phillinganes - Keyboards, Moog Synthesizer, Moog Bass
Joe Pizzulo - Background Vocals
Brian Reeves - Mixing, Mixdown Engineer
Cliff Richard - Vocals on "Two To The Power of Love"
John Philip Shenale - Arranger, Keyboards
Jeremy Smith - Engineer, Mixing
Julia Tillman Waters - Background Vocals
Julia Waters - Background Vocals
Maxine Willard Waters - Background Vocals
Richie Zito - Guitar
Album Chart Performance
Edit
Chart (1984)
Peak
position
U.S. Billboard 200
147
U.S. Billboard Top R&B/Hip-Hop Albums
19