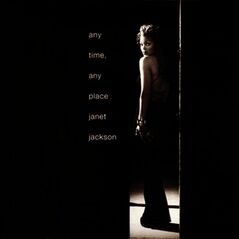 Any Time, Any Place is a song from Janet Jackson's fifth album "Janet.." The song was written & produced by Janet, Jimmy Jam & Terry Lewis. It was released as a single on May 23, 1994.
A remix produced by R. Kelly was also released.
Song Composition
Edit
"Any Time, Any Place" is a R&B ballad, based on sexual liberation, similar to the music of Barry White and Marvin Gaye.
Janet sings about she and her lover having public displays of affection and sexual intercourse. It also features saxophone and fingersnaps with additional sounds of rain and thunder.
The chorus of the song decipts Janet singing, "I don't care who's around" during her public lovemaking. During the second pre-chorus, she vamps, "I don't give a damn! I want you now!" According to Sputnikmusic, the song "oozes with the longing to be touched".
American singer R. Kelly made a remix of the song (which along with the CJ's 12" Mix) appeared on Janet's 1995 remix compilation album "Janet Remixed."
Music Video
Edit
The video for "Any Time, Any Place" was directed by Keir McFarlane. Janet is depicted playing sex games with a man across the hall.
The video acted as a safe sex campaign. An alternate version of the video with the R. Kelly Mix was also shot with more explicit footage. At the end of the video, the screen fades to black, and a message fades in: "any time, any place ......be responsible".
Both versions of the video are featured on the 1994 VHS "janet." while the original appears on the DVD edition of 2001's "All for You" and on the 2004 DVD "From Janet to Damita Jo: The Videos."
Chart Performance
Edit
"Any Time, Any Place" held the number-one position on the Billboard Hot R&B/Hip-Hop Songs for ten weeks (which was a record at the time) and became Janet's biggest hit on the chart.
The song also peaked at number two on the Billboard Hot 100 (behind All-4-One's "I Swear") while it saw limited success in Europe and Australia.
With the song reaching number two on the Billboard Hot 100, Janet became the only artist to release three consecutive albums with at least 5 top-ten singles in the United States.
Critical Reception
Edit
The song received positive reviews from music critics.
Billboard editor Andrew Hampp, while reviewing the album on its twentieth anniversary, called it "a stone-cold classic".
Sal Cinquemani from Slant Magazine noted that the song "provides a genuine climax: It's an oozing, slow-paced romp".
Philadelphia Daily News's Chuck Arnold called the song a "delicate, aching ballad" which "warmly climaxes the carnality with a cooing vow of insatiability".